I love toaster ovens, which is why this list of the best spacesaver toaster ovens was so fun to write! A great toaster oven can make your life so much easier. You can bake fish with a toaster oven, bake a potato, cook a pizza, and so much more! The great thing about spacesaver toaster ovens is that you don't have to waste electricity by turning on the entire range.
If you don't have time to read the whole article here are our top 3 picks:
Both the toaster oven and the electric wok are there to make your life easier!
Another great feature is that if you don't want to heat your entire kitchen with the big oven for a small meal in the summer, then a toaster oven comes in handy.
Tips on Choosing The Best Spacesaver Toaster Ovens!
Figuring out if you want a mountable toaster oven instead of an under-the-counter toaster model will depend on your kitchen design. Do you need your toaster oven to be smaller height-wise or smaller depth-wise? We will compare the different options for you.
If you want a compact toaster instead of a toaster oven, we have a guide.
Whether you have a small kitchen, a tiny house, or no counter space, a spacesaver toaster oven can make your meal prep so much easier. Just be aware that the listed toaster ovens' actual dimensions do not include the handles, brackets, and plastic parts that stick out beyond the toaster.
Highest Quality Spacesaver Toaster Ovens
Breville BOV450XL Mini Smart Oven Countertop Oven
External Dimensions: L16" x W14.25" x H8.5."
The Breville under cabinet toaster oven is our number one pick! With 1800 Watts of power and an even heating capability, you'll never want to turn on the big oven again!
This brand of best spacesaver toaster ovens is only 8.5 inches high, meaning you can fit it under most counters. Whether you are making toaster oven-baked potatoes or a small batch of cookies, the Breville will help you accomplish either!
Sale
Breville Mini Smart Toaster Oven, Brushed Stainless Steel, BOV450XL
The Breville Mini Smart Oven with Element iQ System is for the cook who desires a countertop oven that bakes the perfect pizza, delicious cookies and toasts evenly; Don't let Mini fool you as this space saving oven offers 8 cooking functions
ELEMENT iQ SYSTEM: Using 4 independent quartz elements, smart algorithms steer power to where and when it's needed to create the ideal cooking environment for perfect results every time; Fast 1800 Watt preheat gets your meals on the table more quickly
8 COOKING FUNCTIONS: Super versatile mini smart oven with 8 cooking functions to guide you to perfection: Toast, Bagel, Bake, Broil, Pizza, Roast, Cookies and Reheat
SMALL CAPACITY: The 16.1 x 14.2 x 10.4 inch interior fits 4 slices of toast, bagels, cookies, tuna melts, 6 cup muffin tray and 11 inch pizzas; Complete with 3 rack positions, pull out crumb tray and auto shut off
LCD DISPLAY: LCD display to more easily access the built in smart functionality, choose from 8 cooking functions
Things We Like
The Breville best spacesaver toaster oven has a fast preheat.
This small toaster oven fits an 11-inch pizza.
The Breville toaster oven uses quartz for heating elements.
You can easily choose a setting with a straightforward dial and then use a push button to make adjustments to your cooking time.
Built-in spacers, so you don't accidentally put it against a wall.
Things We Don't Like About the Breville Best Spacesaver Toaster Ovens
The Breville under cabinet toaster oven does not have a built-in timer.
It makes a loud noise halfway through the toast cycle.
Some people state they have problems sliding the crumb tray in and out. Often due to user error, they put the tray upside down.
The rack doesn't slide out automatically when the door is open.
Best Under The Counter Toaster Ovens
Black+Decker TO1313SBD Toaster Oven
External dimensions (L*W*H): 16.4 x 11.3 x 9.4 inches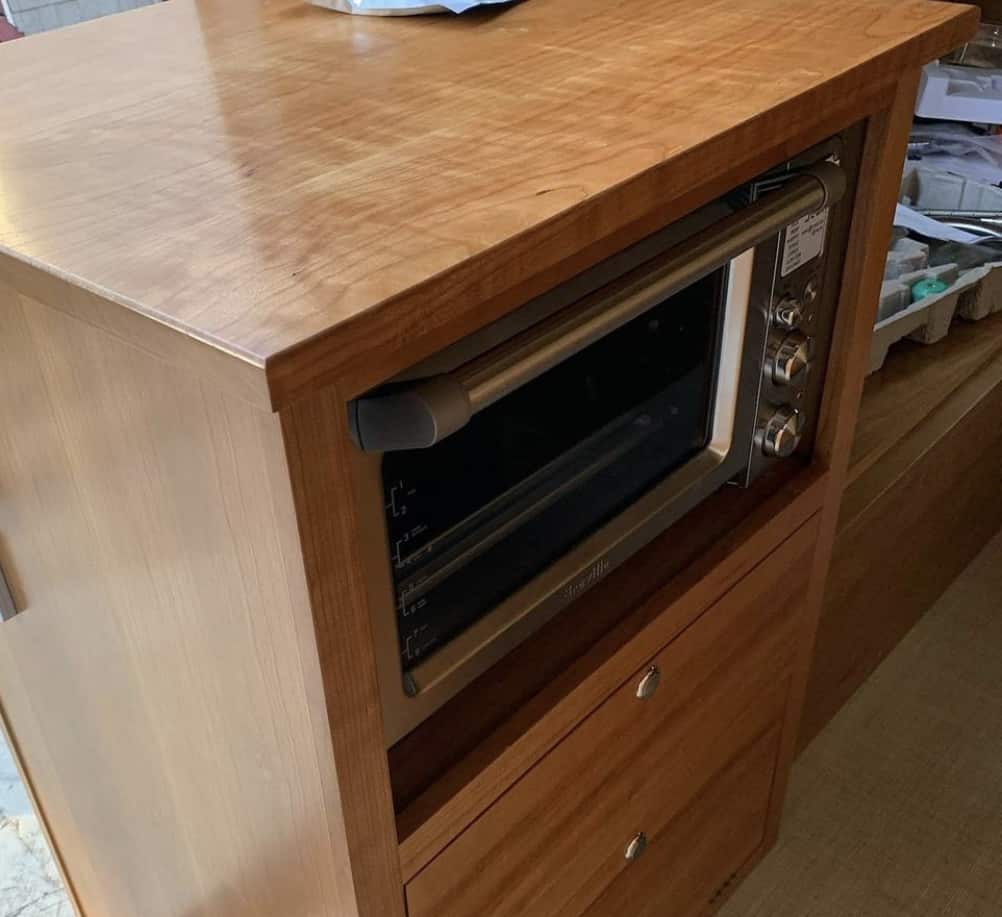 The Black and Decker model has only a height of 9.4 inches and a length of 9.5, making it the smallest toaster oven on our list. You can use this as an under-the-counter toaster or a mountable toaster oven. The choice is yours!
According to our Black and Decker review, this is the best all-around toaster oven option for the price. If grease or food debris falls on the bottom, a fire may result. Cleaning out your Black and Decker toaster oven regularly will help keep it in good shape. Ideally, you don't want butter or oil to accumulate in the bottom tray.
If you allow a few drips to sit, then you'll get smoke when you turn on your Black and Decker toaster oven the next time.
If you only need an under cabinet toaster oven that can fit a 9-inch pizza, four slices of bread, or heat simple things, then this Black and Decker small toaster oven is the one to choose. It is also a great choice if you have a tiny home.
Sale
BLACK+DECKER 4-Slice Convection Oven, Stainless Steel, Curved Interior fits a 9 inch Pizza, TO1313SBD
EvenToast Technology - The toaster oven interior is specially designed for even toasting of up to 4 slices of bread at a time.
9" Pizza, 4 Slices of Bread - The compact toaster oven fits nicely on the countertop, while the curved interior makes room for 9" pizzas and 4 slices of bread.
Four Functions - The stainless steel toaster oven's cooking functions include: baking, broiling, toasting, and keeping food warm.
30-Minute Timer - The timer includes precise toast settings and stay-on functionality.
Removable Crumb Tray - Keep the toaster oven clean with the convenient removable crumb tray.
Things We Like
The compact size of this toaster oven allows it to fit in tiny spaces.
4 Functions: Bake, Broil, Toast, Keep Warm
Pull out crumb tray.
The handle stays cool.
Things We Don't Like
You can't turn off the toaster if your toast looks done before the timer goes off unless you unplug the device.
Some users state that it has a toxic smell.
Must open the oven door to get the crumb tray out.
Best Under Cabinet Toaster Oven (because of its lightweight)
COMFEE' Toaster Oven Countertop, 4-Slice, Compact Size, Small Footprint
External dimensions (L*W*H): 14.6" x 11.4" x 8.0''
If you are looking for a toaster oven that will fit under your cabinet, this one might be the best space-saving toaster option. It can easily fit on a small countertop, underneath a cabinet, or mounted on a shelf. Since the size is so tiny, this is the best spacesaver toaster oven.
If you don't want fancy buttons and just want simple dials, this model should be your top choice for a compact toaster oven. Since this toaster oven's weight is lighter than others, it is the right choice for an under cabinet toaster oven.
Sale
COMFEE' Toaster Oven Countertop, 4-Slice, Compact Size, Easy to Control with Timer-Bake-Broil-Toast Setting, 1000W, White (CFO-BB102)
【3 IN ONE VERSATILE COOKING FUNCTIONS】Bake, Broil and a Toast all in a mini compact toaster oven to fit your daily cooking needs.
【SPACE SAVER WITH 2 RACK CAPACITY】 The Compact and versatile design of COMFEE' countertop toaster oven can fit nicely in any small spaces when counter space is limited with comfort stretch and articulated knees. 2 Rack Levels make toaster ovens countertop holds 2 to 4 slices of bread, 9'' pizza, enough for a family.
【EASY-TO-USE BUILT IN TIMER】The 30-Minute-Timer includes precise toast shade preference and stay-on feature for longer baking tasks. This compact toaster oven has simple controls that are straightforward and easy to use.
【WIDE TEMPERATURE RANGE & INTUITIVE OPERATION DIALS】150°F to 450°F lets you cook with the convenience of different type of foods.Two easy to use dials can not only let you set your preferred cooking time, but also make you easy to control temperature and cookingmodes.
【3 USEFUL ACCESSORIES & EASY TO CLEAN】Small toaster ovens countertop comes with 3 accessories: Non-stick Baking Rack, Baking Pan and detachable Crumb Tray, allows for effortless cleaning.
Things We Like
This toaster oven has a built-in timer.
It will fit a 12-inch pizza.
Low price point.
The Comfee toaster oven comes in white; a white toaster oven is hard to find.
The under cabinet toaster oven has an auto shut-off feature.
Things We Don't Like
You must tilt the toaster oven backward to clean the crumb tray on the bottom.
You cannot adjust the oven temperature when in baking mode—the oven heats between 400° and 425°.
One of the Best Under Cabinet Convection Toaster Ovens
Cuisinart TOB-1010 Toaster Oven Broiler, L16" x W18.5" x H10.75."
External Dimensions (L*W*H): 16 x 18.5 x 10.75 inches
This polished stainless steel spacesaver toaster oven will look amazing on your countertop! This little toaster oven will fit a 9×9 cake pan as well as a tray of cookies!
Unlike the COMFEE toaster oven above, you can adjust the oven temperature from 200° to 450° in 50° increments. Which makes this toaster oven ideal for baking cakes and other desserts.
Cuisinart TOB-1010 Toaster Oven Broiler, 11.875" x 15.75" x 9", Stainless Steel
ENDLESS FUNCTIONS: With 1800 watts of high-performance power you are able to toast, bagel, bake, broil, pizza and keep warm including other options
CAPACITY: Fits 11-inch pizza or 6 slices of bread. .5-cubic feet inside oven toaster
MUST-HAVE FEATURES: The toaster oven has a stainless steel front with a cool-touch handle and easy-clean nonstick interior which makes wiping down easy. Always Even toast shade control for even toasting and a convenient auto-slide rack to remove food easily
INCLUDED: This beautiful stainless steel toaster oven comes with a baking pan, wire rack and front removable crumb tray with cool touch grip
LIMITED 3-YEAR WARRANTY: Refer to user manual for troubleshooting steps and questions surrounding warranty policies – this product is BPA free
Just like all of the other toaster oven models on this list, it gets warm to the touch. It is not wise to place it under a cabinet where you might cause food inside that cabinet to unnecessarily heat up. Whenever I use my toaster oven, I slide it away from the wall before turning it on.
Things We Like
The rack slides out automatically.
The crumb tray slides out for easy cleaning.
Things We Don't Like
Although this is an excellent small toaster oven, it doesn't have a timer.
The beeping sound it makes is shrill and annoying. This beep alerts you that the food is complete.
The rack is too high and may burn your food if you are not careful.
Amazing Spacesaver Toaster Ovens
Luby Convection Toaster Oven
External Dimensions (L*W*H): (L*W*H): 17.91 x 11.02 x 11.22 inches
The Luby is similar to the Japanese-style miniature toaster ovens. Every toaster oven on this list can turn into a mountable toaster oven. While this model may have a longer length, the depth and height are comparable to some other models listed above.
It is essential to measure the area where you want to have a wall-mounted toaster oven and see if this one will fit.
On the other hand, there are many reasons for wanting an under-the-counter toaster, and this model might be too big to fit under most counters. The toaster oven models that fit underneath a cabinet countertop are a terrific space-saving toaster oven option. The thing is, even a small toaster oven might not work under your cabinet, so you need to measure the area correctly.
LUBY Convection Toaster Oven with Timer, Toast, Broil Settings, Includes Baking Pan, Rack and Crumb Tray, 6-Slice, Red
CONVECTION HEATING: Use convection heating technology to circulate warm air throughout the appliance for quick and evenly baking or cooking Also brings better flavors in your food as the dish inside the oven is cooked at the same rate
6-SLICE COUNTERTOP OVEN: It's big enough to cook all types of meat You can fit 6 slices of bread or 10" pizza in it easily Perfect size for your family it doesn't take much on the counter but will cook a wide range of different types of food Dimensions 17.91 L x 11.02 W x 11.22 H inches perfectly fits on your countertop
BEAUTIFUL RED TOASTER OVEN: The perfect wedding or new home gift Its sleek design and trendy color options will match any kitchen décor
MLUTI-FUNCTION TOASTER OVEN: Equipped with 4 heating elements at the top and bottom the toaster oven's cooking functions include baking bread broiling steak toasting bagel You can do so much more with Luby toaster ovens countertop
EASY TO USE: 3 knob controls with easy-turn design 60 minutes timer for automatic shut-off and the ready bell is loud enough to hear No worries about getting distracted and burning your food
Things We Like
It has convection heating with a temperature control knob.
There is a built-in timer, so you don't burn your food.
The Luby convection toaster oven comes with four heating elements at the top and bottom, which helps with cooking your food evenly.
It can fit a 10-inch pizza.
Things We Don't Like
The unit does not shut off when you open the door.
Users are reporting that the top heating element stops working after a few months.
The writing for the numbers wears off on the dials in time.
The Luby oven only turns on with the timer; if you want to bake something longer than 60 minutes, you will have to reset the timer.
Excellent Under The Counter Toaster Oven
Dash Tiny Toaster Oven Cooker for Bread, Bagels, Cookies, Pizza, Paninis & More
External Dimensions (L*W*H): 7″ x 7.25″ x 8″
Please be aware that this might be the smallest toaster oven on our list. It is one of the best tiny toaster ovens and will not handle heating any deep dishes. You can only fit a single piece of toast; when you picture this toaster oven, think of the toy ovens called easy bake ovens for kids.
If you want an excellent toaster that looks like a box, then get this model. It easily slides under a cabinet and can be pulled out when you want to use it. Due to its tiny size, you don't have to worry about this mini toaster oven taking up too much counter space.
DASH Mini Toaster Oven Cooker for Bread, Bagels, Cookies, Pizza, Paninis & More with Baking Tray, Rack, Auto Shut Off Feature - Aqua
MORE THAN TOAST: Make toast, bagels, pizza, paninis, even cookies! Great for smaller portions, picky eaters, or on the go Plus, its mini size makes it more energy efficient than your oven
TIMER CONTROL: Timer is dial controlled, so your food Comes out perfectly toasted every time.
EASY CLEAN: Backing tray, oven rack, and crumb tray are all removable and dishwasher safe for quick clean up and spotless countertops (all other surfaces are wipe clean)
PERFECT GIFT: The perfect wedding or new home gift Its small size takes up little counter space, and its sleek design and trendy color options will match any kitchen décor (Add to your registry now! )
INCLUDES: Backed by a 1-year manufacturer , The 550 watt DASH compact toaster oven includes baking tray, oven rack, crumb tray, recipe book and recipe database access (all non-electric parts are easily wiped clean)
Things We Like
Super small toaster oven. Great if you have zero counter space or live in a tiny NYC apartment!
The design is adorable.
Since it's so small, it Heats up quickly.
Excellent for an office kitchen.
Things We Don't Like
No temperature control. Once it is on, it stays on.
The Dash miniature toaster oven will only fit one slice of toast.
The Best Toaster Oven – Air Fryer Combo
Oster® Compact Countertop Oven With Air Fryer, Stainless Steel
External Dimensions (L*W*H): 18.62 x 15.35 x 10.75 inches
Since this one is four appliances in one, we had to add it to our best spacesaver toaster ovens list. With this one appliance, you will get an air fryer, toaster, mini convection oven, and broiler.
An air fryer is a unique proprietary cooking method that uses a machine to push heated oil around food. According to Web MD, an air fryer cuts calories by 70% to 80%.
While this space-saving toaster oven's height is not too much more significant than our other picks, you can still adjust the rack into three different positions. Many of the other toaster ovens only have one option for the cooking shelf.
Sale
Oster Compact Countertop Oven With Air Fryer, Stainless Steel
4 APPLIANCES IN ONE: This versatile Oster Air Fryer oven combines a convection oven, an air fryer, a toaster, and a broiler, giving you plenty of ways to make easy and delicious meals and snacks, and saving you valuable counterspace
MAKE FRIED FAVORITES HEALTHIER: Make all of your favorite fried dishes with 99.5% less oil*, and turn vegetables into healthy, delicious, crunchy snacks Compared to 3.7L deep fryers
ALL THE FEATURES OF A COUNTERTOP OVEN, AND MORE: Independent dial controls for temperature, cook functions, and timer settings; 5 settings include air fry, bake, adjustable broil, toast, and warm, plus Turbo Convection Technology to cook food faster and brown more evenly compared to conventional ovens
HEAT PIZZA OR TOAST BREAD: Fits a 9'' pizza or up to 4 slices of bread
MORE FEATURES: 3 rack positions, 60-minute timer, and adjustable broil feature that allows the oven to broil at any temperature
Things We Like
Multifunctionality
The oven has a turbo speed, which allows you to cook food faster.
Things We Don't Like
We could only find complaints due to user error, or people thought it was "too small." If you want a large appliance, don't opt for the best spacesaver toaster ovens. Most good toaster ovens are space-saving compact appliances.
The Different Types of Spacesaving toaster ovens
Simple Toaster Oven. Usually, this type just can toast and use the oven at one set temperature. We did include a few of these best spacesaver toaster ovens on our list.
Smart Toaster Oven. This type of toaster oven can broil, bake, convect, and toast. Some of them can cook various items with the push of a button. They may have a control that has a label for "pizza" or "leftovers."
5 Benefits Of Using A Toaster Oven
Energy Saving! You don't have to turn on the big oven. There are a few reasons why you might not want to turn on your big oven. You don't have air conditioning, and you don't want to heat your house in the summer by turning on the stove. A second reason is that you might want to save on electricity.
You can use it outdoors if there is an outlet nearby.
If you have a tiny house with no oven, the best spacesaver toaster ovens are an excellent substitute.
The multi-function capabilities are outstanding. You can bake a potato and also make toast.
5 Things To Consider When Buying One Of The Best Spacesaver Toaster Ovens
Color of the Appliance. If you love copper cookware and have a copper tea kettle on the stove, you might want a copper-finished toaster oven.
Do you want to be able to control the oven temperature? Some of the counter small-size toaster ovens can only heat the food to 400°. They do not have a temperature-sensitive control.
Is the convection feature important to you? Not every best spacesaver toaster oven has the option for convection.
How about a built-in timer? A few of the brands we featured in this toaster oven review guide don't have a built-in timer. But with everyone using smartphones these days, we all have a built-in timer on our phone, so this should not be a make or break feature!
Measure your counter and space that you want to store in your toaster oven. Not every model can become an under cabinet toaster oven; some might be too big to fit. It all depends on the size of the storage space.
FAQS About Compact Toaster Ovens
Is it cheaper to use a toaster oven or a regular oven?
Yes, for sure! A toaster oven uses less electricity to run and therefore costs less to turn on. Depending on the toaster oven's wattage, it will cost .06 cents per day or less to run it. 
Can you use aluminum foil in a toaster oven?
You should never line the sides or bottom tray of a toaster oven with aluminum foil; this is a fire hazard. Even though lining your toaster oven with aluminum foil will make it easier to clean, most toaster oven manuals advise you not to put aluminum foil into your toaster oven.
Check the manufactures directions to see if your best spacesaver toaster oven model can handle aluminum. Since many of the under-the-counter toaster oven models are smaller, they will not take aluminum foil well.

Can you cook frozen food in a toaster oven?
Yes, as long as the instructions provide toaster oven directions. A lot of frozen dinners, like Amy's Pot Pies, provide toaster oven instructions. If the frozen meal is something that you yourself froze then you will have to keep checking the meal to see if it is cooked all the way through.
Are toaster ovens worth it?
Yes, they heat up faster, are energy efficient, and have multi-functional capabilities. If you don't have counter space for a toaster oven, there are options. You can also set up your toaster oven on a rolling kitchen cart or put the toaster oven under the cabinet when you are not using it.
Final Thoughts On The Best Spacesaver Toaster Ovens
First, think about how tiny you want your toaster oven. We feature everything from the Dash, which only fits one slice of toast, to the Breville, which holds four toast slices.
Our number one pick for quality, size, and functionality are the Breville.
No products found.
Don't hesitate to choose one of our other picks if they suit your needs better! Each of our choices is highly rated, and they are all able to handle being an under cabinet toaster, mounted toaster, or space-saving toaster oven!